Upcoming Events
Tuesday, 22nd October 2019
Jo-Jingles - Red/Green Classes
Wednesday, 23rd October 2019
Jo-Jingles - Blue Class
Friday, 25th October 2019
Halloween Party (ALL SESSIONS 9 - 11)
Monday, 28th October 2019
NURSERY CLOSED
Tuesday, 29th October 2019
NURSERY CLOSED
Wednesday, 30th October 2019
NURSERY CLOSED
Thursday, 31st October 2019
NURSERY CLOSED
Friday, 1st November 2019
NURSERY CLOSED
welcome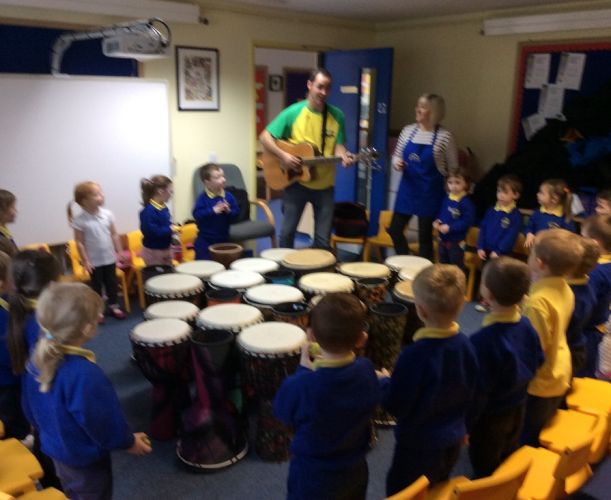 OCTOBER
October- 'Home Sweet Home' Colours for the month - Orange, Brown and Black.
This month we will be talking and learning about different kinds of home and our family.
Our first session with Joe from Gathering Drum is on 15 October - the children really enjoy playing drums with Joe. Have a look on his Facebook page for more information.
Remember to sign up for your child's parent interview - list of times in cloakrooms.
A big Happy Birthday to all those who turned 4 in September - Georgia and Evie in the Green Class and Jake, Thom, Archie, Eva, Charlie and Elliana in the Blue Class. Hope you had a great day!
School Holidays 2019/20
Staff Training
28 October 2019
HALLOWEEN
29 October –1 November 2019
CHRISTMAS
23 December 2019 – 3 January 2020
HALF TERM
17 – 18 February 2020
Staff Training
27 March 2020
Staff Training
6 April 2020
EASTER
7 – 17 April 2020
Staff Training
1 May 2020
MAY-DAY Bank Holiday
8 May 2020
BANK HOLIDAY
25 May 2020
Staff Training
5 June 2020
ALL DATES ARE INCLUSIVE
Last day of Term – 30 June
Mossley Nursery School, Hazelburn Rd, Newtownabbey BT36 5NA | T: 028 9083 5549