Upcoming Events
Wednesday, 23rd May 2018
Jo-Jingles (Blue Class)
Thursday, 24th May 2018
Charity Obstacle Course
Monday, 28th May 2018
NURSERY CLOSED
Tuesday, 29th May 2018
NURSERY CLOSED
Wednesday, 30th May 2018
NURSERY CLOSED
welcome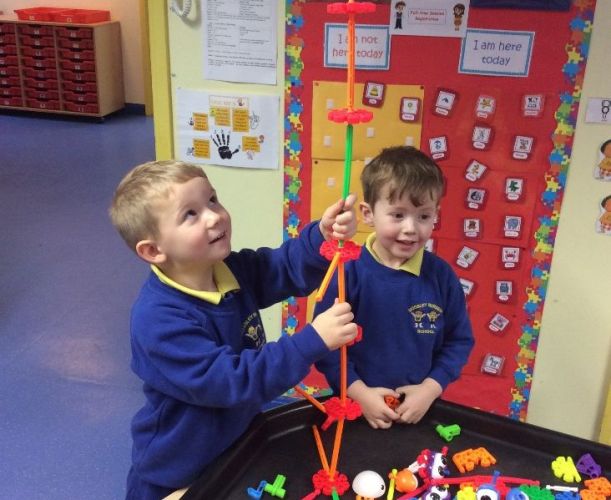 MAY
MAY'S TOPIC - Birds, Bugs and Beasts (wild animals, pets, minibeasts, birds, even dinosaurs!!)
Colours - Black and White
We will be talking about all animals. This month we will have a visit from Mantella (creepy crawlies!) and Debbie Dolittle with her rescue animals - both very popular with the children.
Quite a lot of nursery closures this month so keep an eye on whiteboard for reminders.
Also during May we will be making contact with your child's new P1 teacher and planning how to make your child's transition as smooth as possible in September. As we have children transferring to a wide number of schools, this may be different for each one. The purpose is to allow your child to feel confident and secure in their new venture. We have already been over to Mossley Primary to plant sunflowers in their poly tunnel.
We are still looking for volunteers for our spring clean!!!! Would really appreciate this!
April Birthdays - Olivia C (Red Class), Caleb (Green Class) and Riley C, Katy and Austin (Blue Class). HOPE YOU ALL HAD A GREAT DAY!
School Holidays 2017/18
HALLOWEEN 30 October - 3 November 2017
Staff Training 6 November 2017
CHRISTMAS 20 December 2017 - 1 January 2018

Staff Training 2 January 2018
HALF TERM 15 - 16 February 2018

Staff Training 27 March 2018
EASTER 28 March - 6 April 2018

Staff Training 4 May 2018
MAY DAY 7 May 2018
BANK HOLIDAY 28 May 2018

Staff Training 29 May 2018
ALL DATES ARE INCLUSIVE
LAST DAY - 29 June 2018
Mossley Nursery School, Hazelburn Rd, Newtownabbey BT36 5NA | T: 028 9083 5549