Upcoming Events
Wednesday, 19th December 2018
Jo-Jingles (Blue Class)
Friday, 21st December 2018
Magic Show
Monday, 24th December 2018
School Closure
Tuesday, 25th December 2018
School Closure
Wednesday, 26th December 2018
School Closure
Thursday, 27th December 2018
School Closure
Friday, 28th December 2018
School Closure
Monday, 31st December 2018
School Closure
Monday, 7th January 2019
Hullabaloo (Morning) (Open afternoon 1 -1.45 pm)
Tuesday, 15th January 2019
Jo-Jingles (Red/Green Classes)
Wednesday, 16th January 2019
Jo-Jingles (Blue Class)
welcome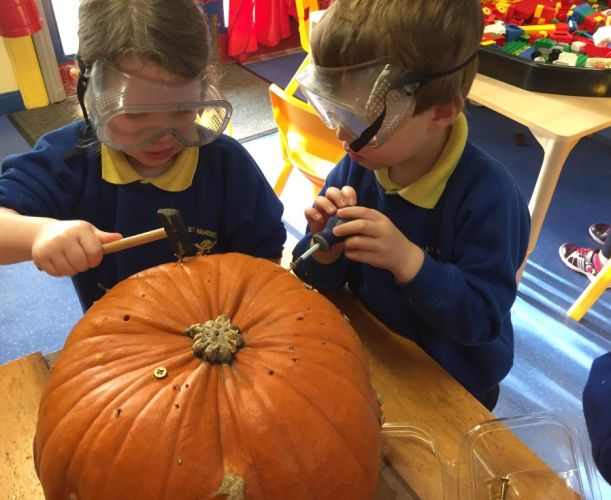 DECEMBER
DECEMBER'S TOPIC - 'Let's Celebrate' Colours - Silver and Gold
We are organising a Christmas Ballot to be drawn at the Christmas Party. We would like everyone to bring an item for the hampers (see list on whiteboard—please feel free to add your own ideas). Ballot tickets will be on sale during December. Thank you.
Do you or your partner work for a company who would be willing to donate an item to support our Christmas Raffle? Please let us know if you can help.
Thanks to all who supported our events during November. We raised £125 for our Book Sale which will go towards replenishing our libraries and £147 for Children in Need!!!
NOVEMBER Birthdays - Poppy, Charlie, Jaxson, Tyler, Jenson and Alfie in the Red Class, Poppy, Kortney, Holly and Jude in the Green Class and Mason and Marc in the Blue Class - Hope you all had a great day!
School Holidays 2018/19
Staff Training
29 October 2018
HALLOWEEN
30 October – 2 November 2018
CHRISTMAS
24 December 2018 – 3 January 2019
Staff Training
4 January 2019
HALF TERM
18 – 19 February 2019
Staff Training
16 April 2019
EASTER
17 – 26 April 2019
Staff Training
3 May 2019
MAY-DAY
6 May 2019
BANK HOLIDAY
27 May 2019
Staff Training
28 May 2019
ALL DATES ARE INCLUSIVE
Last day of Term – 28 June
Mossley Nursery School, Hazelburn Rd, Newtownabbey BT36 5NA | T: 028 9083 5549